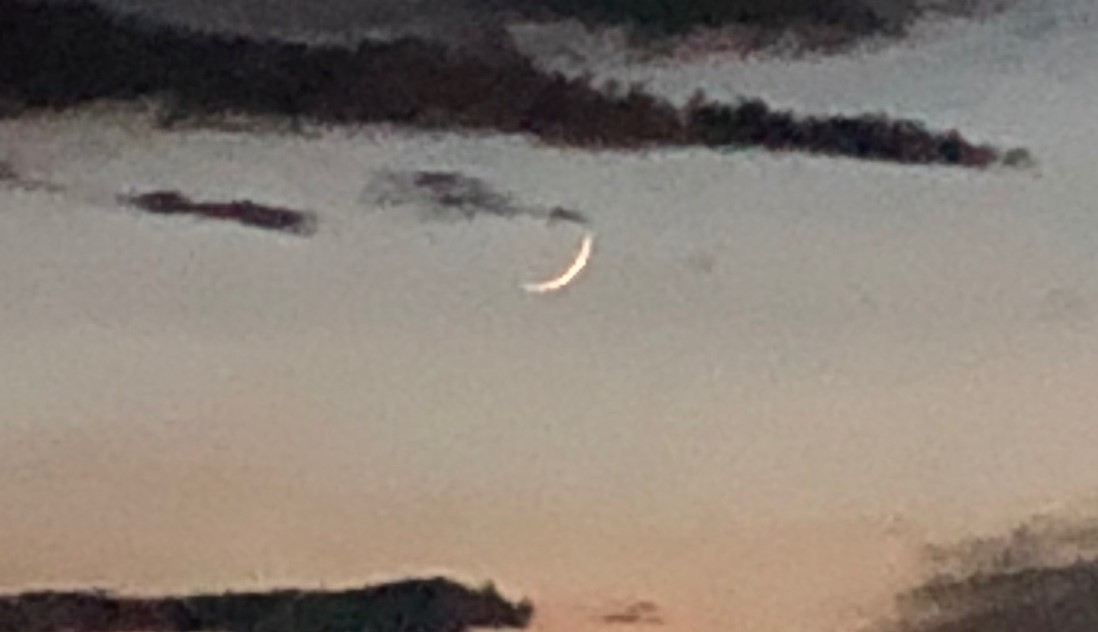 New Moon Sighting from Welaka, Florida, by Dean Finch :-) Happy Feast of Trumpets 2018! The moon was sighted in India, Mauritius, 3 places in Africa, Israel and then confirmed in Welaka, Fl.! Chag Sameach!
Welcome!
You are here for a reason and this is the season;
You can make a difference in God's kingdom,
We want to help you be all that God created you to be.
Torah Boat

is about perspective; it's about a journey into life empowering biblical truth. Check our, especially during hurricanes, to see the majesty of God's creation, AND to keep yourself safe.
We reveal Bible truths overlooked for centuries, and being brought back to light in our day. Discover real meaning in life and purpose in being. Learn to walk in blessings and avoid curses. Check out our Teaching Videos page, or sign up for our incredible Summer Youth Camp adventure on the beautiful Suwannee River, or plan your Fall vacation with the most empowering Sukkot in the Southeast. At Tabernacles, the kids and adults enjoy our many activities and water-sports and on the spring fed lake with tubing, canoeing, a giant water-slide and more.
If you are in Florida, visit us for our
Sabbath Service
. click the "
HaBiet
" tab for more info.
Boats in the Bible, a Hebrew Perspective;
In the New Testament alone, we find boats mentioned 71 times in 67 verses. Jesus/Yeshua and His disciples are seen in, around boats on the Galilee constantly, yet it is rare that we think of them in this context. In Mark 4:1 and Luke 5:3, Jesus/Yeshua is seen teaching the multitude from a boat. Since He is our Lord, and Master, we thought it would be a good idea if we followed His example and "sea" the Bible from a Torah observant Galilean perspective.
Mark 4:1 Again he began to teach beside the sea. And a very large crowd gathered about him, so that he got into a boat and sat in it on the sea, and the whole crowd was beside the sea on the land.
Luke 5:3 And he entered into one of the boats, which was Simon's, and asked him to put out a little from the land. And he sat down and taught the multitudes out of the boat.
The Language, Culture and Context of the Bible are critical for its understanding. We hope to present to you, teachings in a fresh new way, using our trademark style of teaching the "Language, Culture and Context" of the Bible, to reveal deeper insights into the world of our Messiah Yeshua.

Our mission is to challenge you to "get on-board" with our Messiah Yeshua as we study His Word from that original perspective.
Mat 14:33 and those in the boat worshiped Him, saying, "Truly you are the Son of God."
Welcome aboard!, Capt. "P.J."
About us: "Language, Culture and Context" Pastor Phelan "PJ" Jones, has long been a fan of the Bible and boats. He has taught Torah, worked and studied biblical archaeology and Ancient Middle Eastern history and culture, for over 25 years now. He has worked on numerous projects in Israel with the Israeli Antiquities Authority, the Holy-Land University, the UNC and many others. "Pastor PJ's" unique approach presents the Bible from his trademark perspective of its "LANGUAGE, CULTURE and CONTEXT". This unique approach gets us back to the original meaning of the Scriptures, so that they can impact and empower our lives in the way that they were originally intended. Phelan is the pastor and founder of HaBiet Messianic Congregation, near the St. John's river in San Mateo, Florida.